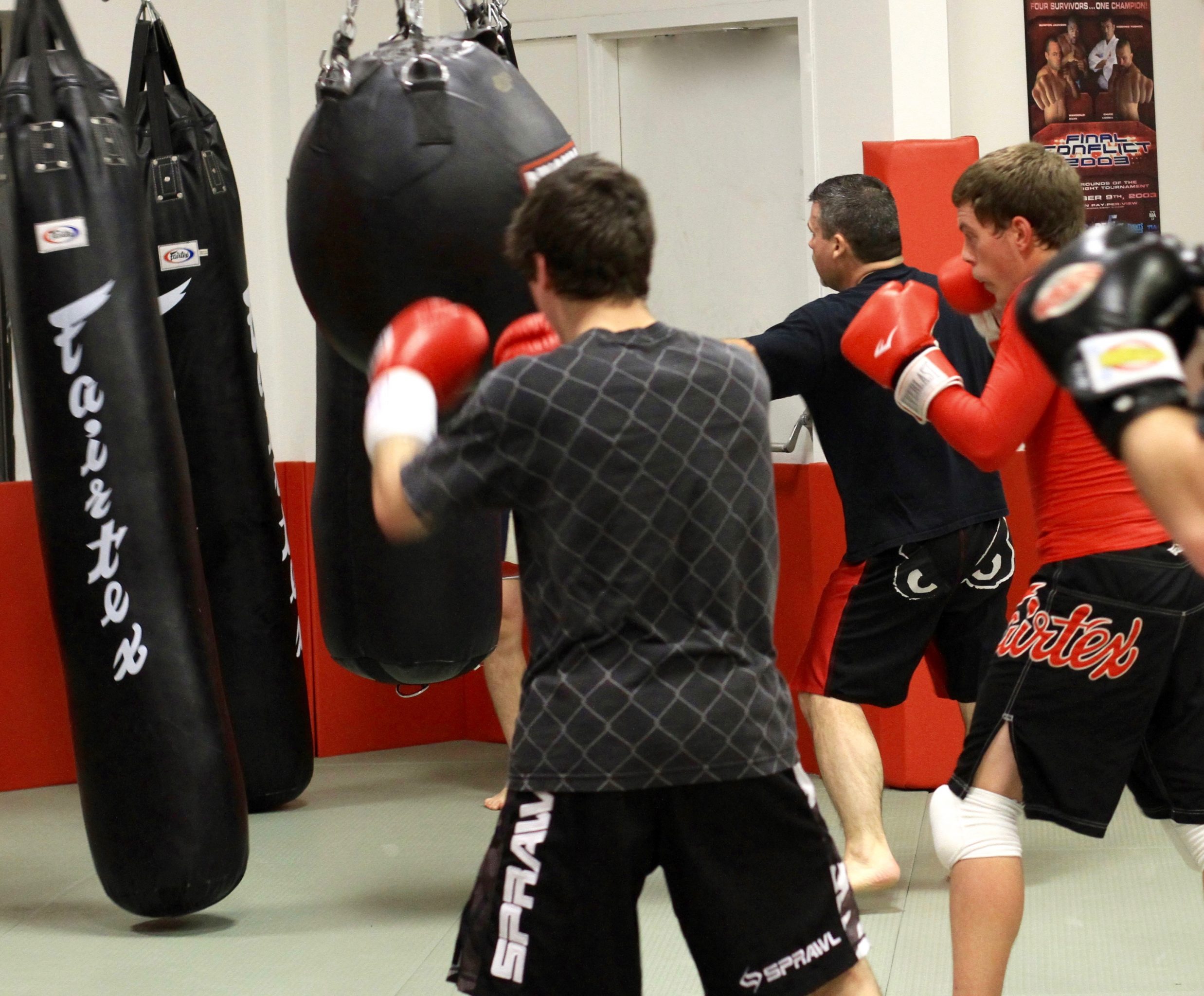 The evolution has arrived in Newmarket and Aurora! K-1 is recognized globally as the most Prestigious Striking Competition and most effective striking martial art today.  K-1 is the evolution and combination of traditional Muay Thai and Boxing and it is the competition standard to crown World Champions in striking arts around the world.
At Warrior, our K-1  Muay Thai program is designed for members to start with little or no previous experience. Members have the opportunity to learn K-1 Kickboxing under Champions who will help you learn how to punch, kick, practice balance, learn proper rhythm and increase your speed and power as you hone your skills.
Our K-1 Muay Thai program is ideal for members who want outstanding fitness while learning in a relaxed environment. The curriculum covers everything from K-1 / Muay Thai basics to advanced training techniques including ring strategies, generating power, footwork angles and more.
At Warrior we have been teaching K-1 / Muay Thai for two decades and we are proud to say that our classes are host to a great variety of people ranging in skills and goals.  It's true Warrior has developed many Muay Thai, Boxing & MMA champions, but our greatest pride and focus stays with bringing this amazing art to the community.  At Warrior, our National and Provincial champions train alongside regular highly motivated Warrior students to produce an atmosphere of encouragement that simply can't be beat!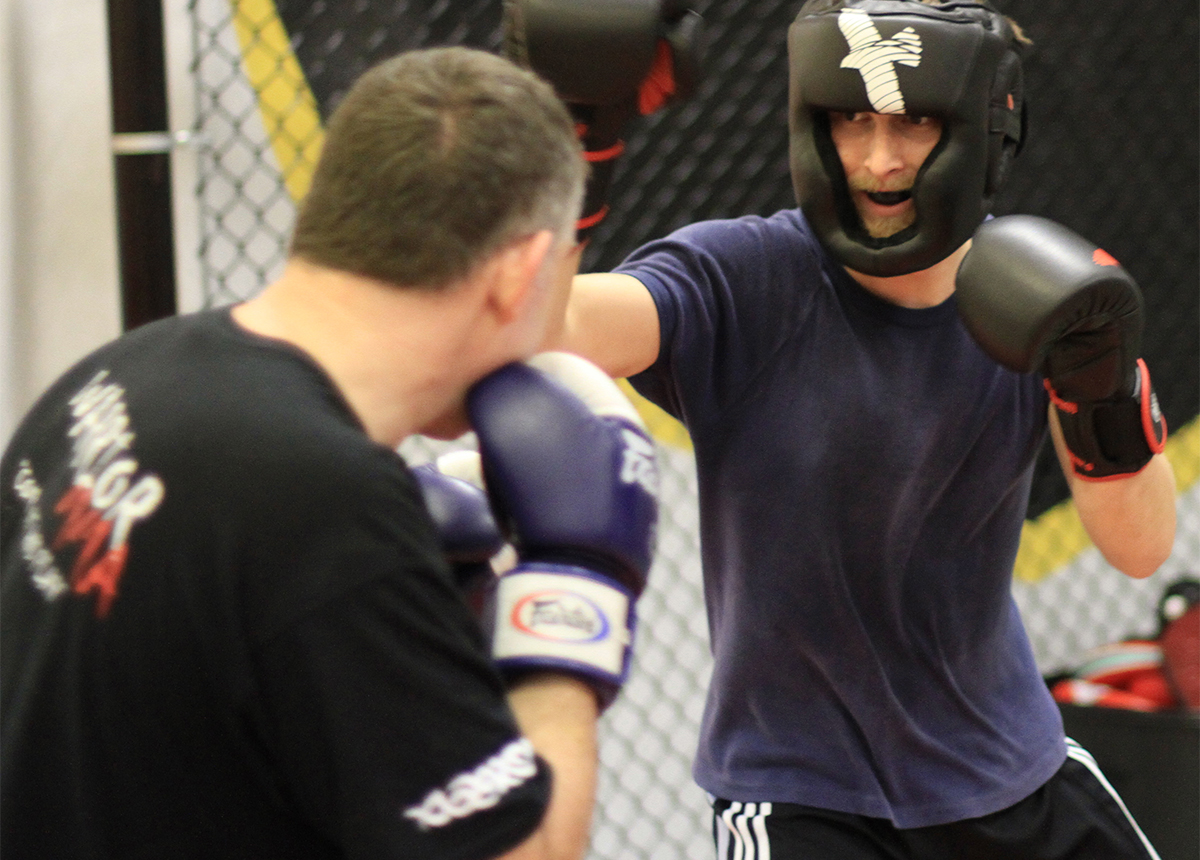 Train DAILY under Former National Kickboxing Champions
Full body strength, conditioning and flexibility workout
Encourages self discipline
Trains excellent self defense
Trains for a positive mindset
Gain greater confidence
You can do it, we know you can! We'll be right there with you every step of the way. Contact us you your free trial today!
To see our Adult programs in action CLICK HERE

905-830-1711
REACH YOUR GOALS


TRY A FREE CLASS
Mike Russell
The Fight Network
"Terry Riggs is widely regarded as an MMA pioneer, instrumental in the evolution of the sport in Ontario."
"I just wanted to say how impressed I am and have been with your facility, from the gym conditions to the professional conduct of your staff. My children started in the after school program and have moved on to the junior program with enthusiasm. I have watched my children grow in confidence and character, since being involved with your dojo. You have presented a fun safe environment and your staff is second to none. I wish you future growth and success and I endorse your club to anyone who asks."
Martial Arts Professional Magazine
"Terry Riggs is Canada's MMA Authority. If you're looking for someone to teach you or your kids, Riggs is the guy that you want for an instructor."
"Our younger son loves his Little-Warriors program, as the lessons are fun, interactive and applicable in real life situations. The instructors are very professional, incredibly patient and very attentive with the children. Our son learns to respect his instructors and peers and to focus on tasks. He is also learning the difficult concept of sportsmanship – to compete, to win, or lose, with grace – a lesson that all Warrior kids are taught. Membership time at Warrior is an investment in valuable life-long intrinsic skills for our children."
"Warrior has a dedicated staff that is worthy enough to be called role models. Their constant dedication allows the kids to aspire to reach new goals. My kids have become confident and positive leaders from the tools they have learned at Warrior. I wouldn't send them anywhere else. Keep up the excellent work."
"As a result of the Warrior program, our elder son he has a quiet confidence and self-assurance; he has become much more outgoing. The discipline that he acquired from Mixed Martial Arts helps him in school as well as in other sports."
"The fitness level I've achieved from kickboxing is amazing! I feel great! The endurance, strength and knowledge is fantastic but it is the commitment to the fun group dynamic that truly makes it all work!"
"The results were amazing both myself and my son lost over 30lbs each in just 8 weeks, WOW!!!"
Carlos Newton
UFC World Welterweight Champion
"Being the "Ronin" and traveling the world, I have had the opportunity to work with many coaches but none have been a bigger influence in my life than Terry Riggs. There is no better coach out there!"
"During his competitive career Riggs was both a Jiu-Jitsu Grappling and North American Kickboxing Champion; an amazing accomplishment."
Brent Beauparlant
IFL Fighter & Canadian National Wrestling Champion
"I've had many coaches through my amateur competing career but none of them compare to Terry Riggs. Terry helped me to become an international level professional MMA fighter and go further in my career than I could have imagined. He is simply the best coach I have ever had!"
"Just a quick note to let you know how pleased we are with the positive atmosphere and attitude found at Warrior. Our daughter has noticeably changed for the better with respect to her physical fitness, energy levels and school grades. All the staff are deservedly respected and set a high standard as roll models to the kids."
"We had tried some other day camps but by far my kids had the most fun and did the most activities at Warrior. After 1 week my kids wouldn't let me send them anywhere else for the rest of the summer."
Syd "The Jewel" Vanderpool
(Super Middleweight Boxing Champion)
"My opportunity came when Everton McEwan, the legendary boxing trainer, showed me not only how to reinvent my boxing game, but how to reinvent the way I looked at the sport. After my Bernard Hopkins fight, Everton showed me how to move laterally with the world's best; under his guidance I learned to be light on my feet, while still maintaining my knockout power."
Vanderpool's upcoming date with Jeff Lacy is being pegged as the potential super middleweight fight of the year. In his favor, he's got Everton McEwan in his corner. Vanderpool says, "He's the best coach he's ever worked with."