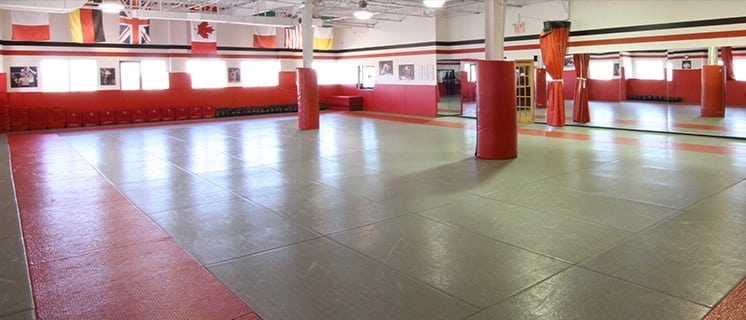 Our state-of-the-art facilities are simply unparalleled. Warrior is the largest premium training facility of its kind in York Region.
Our facility is clean, spacious, air-conditioned and has 3 full separate Dojos (gyms), with each dojo having its own parent viewing area. We have a full size professional boxing ring, padded half cage and everything needed for a beginner to a World Class Professional.
We're one of the largest martial arts schools in Canada.
The entire flooring surfaces of all of our Dojos are "Tatami" matted. This tatami flooring is the same as used at the Olympic Games and the walls of the Dojos perimeters are padded as well. These padded surfaces allow our students to give their very best with the confidence that an Olympic caliber facility is surrounding them.
Our fitness facility provides everything needed to keep in shape; it is provided "free of charge" to adult members and parents of children enrolled in our programs. From Lifecycles to Nautilus weights, to a wide variety of free weight machines, we have it covered.
16,000 square feet of elite, temperature-controlled training facility
Three separate large Tatami matted Dojos for your safety and enjoyment
Full weight room and cardio facilities
Full Size Professional Boxing Ring and Padded Half Cage
All Tatami matts imported from Europe
Separate full Muay Thai training area
Muay Thai heavy bags from Thailand
Thai pads, low leg pads and punching mitts from Thailand
High fidelity, state of the art sound system
Complimentary wireless internet access
Everything you need for championship training
Warrior would like to thank Facility Designer Ken Gibb for his tireless effort and dedication. It is his craftsmanship and visions that made Warrior a world-class facility.
REACH YOUR GOALS



TRY A FREE CLASS